Good and not so good sports?
Tom Brady says his rudeness w/ press after Bucs loss to Washington was due to his "lack of perspective after losses" & joked on Instagram "Press conferences after loss are like co-workers emailing you before you've had coffee."
Just as well Tom's still playing and not retired coaching his kids' sports teams.
–
–
Brandon Belt today decided not to become a free agent and accepted an $18.4 million qualifying offer from San Francisco Giants. Well, yeah, a captain doesn't abandon his crew.
–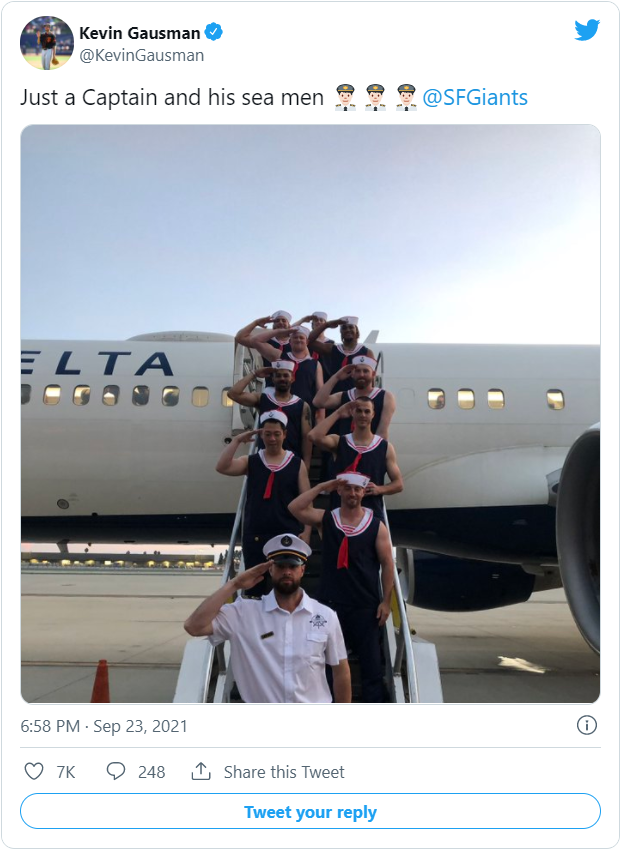 Matt Gaetz wants to hire Kyle Rittenhouse as a Congressional intern? Why stop there, why doesn't Gaetz encourage his fellow GOP members of Congress to hire Rittenhouse as a bodyguard/medic for their daughters?
–
Husband of Florida woman who died of COVID-19 while suing hospital to be treated with ivermectin is continuing her lawsuit "Every person in Florida has a constitutional right to choose what is done with their own body." Would he like to also become a spokesman for NARAL?
–
–
Can someone please teach Chris Christie how to knit so we can tell him to go home?
–

Gosh, six months ago Maxine Waters just telling protesters to get more confrontational if Chauvin were acquitted was cause in McCarthy's mind for censure. But sharing a video about KILLING a member of Congress…well, boys will be boys.
–
Q-Anon Shaman sentenced to 41 months in prison. Got news for these folks. JFK Jr isn't coming back. And Velveeta Voldemort was never going to pardon them.
–
Conservative media: Driving across state lines to a protest while carrying an AR-15 to a protest = being a good boy. Walking in a neighborhood to buy Skittles while wearing a hoodie = being a dangerous thug.
–
As Mike Lee complains that the vaccine mandate threatens Americans with being unemployable, is he also going to argue that laws threaten Americans with being unemployable? Because there is that question on most job applications – "Have you ever been arrested?"
–

It's basic math that paying workers more will cause prices to increase. So would GOP Senators complaining about inflation like to set an example for constituents by offering to reduce their own salaries?
–
So did GOP House members say today that if any Democratic members want to post violent anime videos of themselves attacking one of their Republican colleagues or the Former Guy it's no big deal?
–
Dear media. As you post headlines about increasing COVID case counts and hospitalizations in various states, would you please include percentage of serious cases and deaths who are unvaccinated? Asking for Americans who are tired of COVIDiots.
Explore posts in the same categories:
Uncategorized