Saturday night lights out.
SF Giants looked flatter Saturday night than the earth according to Kyrie Irving.
–
Who says Giants and Dodgers fans can't agree on anything? Angel Hernandez s*cks.
–
But uh.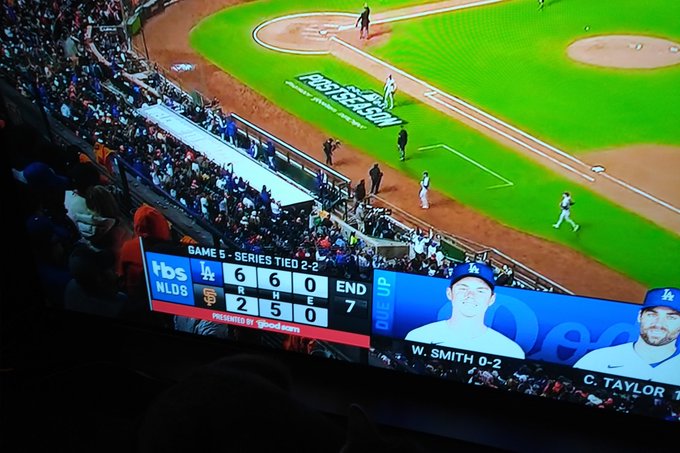 Giants and Dodgers are the best two teams in baseball.. and a missed strike three on Chris Taylor by the worst umpire in baseball, Angel Hernandez, really ignites a 6th inning rally…
–

So let the "A one-loss Alabama still deserves a shot at the College Football Playoffs" chants out of Tuscaloosa begin!
–
"LSU removes COVID-19 protocols for fans at Tiger Stadium beginning with Oct. 16 game vs. Florida Gators." What could possibly go wrong?
(On the other hand, after LSU was beaten soundly by Kentucky, maybe social distancing next week won't be a problem.)
–
McConnell claimed in letter to Biden "in light of Schumer's hysterics" he will not help Democrats avert debt ceiling crisis in December. So Senator Minority leader will tank the entire country before Christmas because his feelings got hurt by a speech? Who's being hysterical?

Can anyone imagine how the media would react if Hillary Clinton regularly had rallies after 2016 to complain about her election loss? And unlike Velveeta Voldemort, Hillary WON the popular vote.
–
Kim Kardashian is doing to SNL for me what Chuck Todd does to Meet the Press for me every week.
Well, it was a good night to go read a book.
–
JPMorgan bans business travel for unvaccinated U.S. employees .
So I missed this story. Wouldn't you think Fox News or GOP would be lauding JPMorgan-Chase for a decision on what they thought was best for their business?
Explore posts in the same categories:
Uncategorized