Beat LA
It's a start with tonight's ESPN headlne: "Webb silences Dodgers in brilliant playoff debut." Oh, wait, this headline doesn't even MENTION the team Webb pitches for – the SF Giants. Never mind.
And even as a long time SF Giants fan, I can tell you it's a real rarity to see Buster Posey smile.
But it's a nice rarity.
–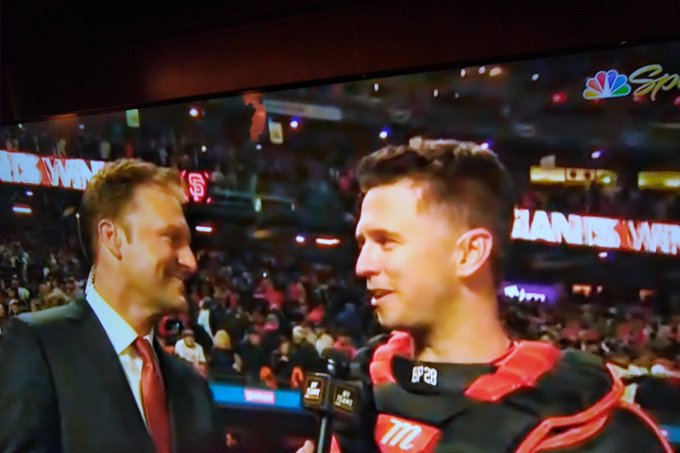 –
Friday Night should be for high school football. But okay then, maybe no one in the Eastern or Central time zone cares about Stanford – Arizona State.
On the other hand, they might care if Cincinnati runs the table and knocks a SEC team out of the CFB playoffs.
–
And baseball wonders why they can't grow TV ratings. Not only are none of today's ALDS/NLDS on network television… the White Sox vs Astros game 2 is only on MLB Network. And Red Sox Rays only on FS1.
For anyone traveling, good luck finding FS1 OR MLB Network on hotel/motel TVs.
–
Since January 6 is trending on socieal media need to remind everyone again of a name – Brian Sicknick.
–
Kyle Rittenhouse's defense now apparently is that he was going hunting? I will never forget the first time I read Richard Connell short story "The Most Dangerous Game." Liked it better as fiction.
–
–
I have come to like Pete Buttigieg. But when he calls parenting twins 'the most demanding thing I think I've ever done" a whole lot of moms are just giggling.
–
On Twitter, anytime someone posts an article, even if you've already seen it, and you try to retweet, you get asked "Do you want to read the article first??" Not saying Twitter is perfect, but that little check is a major improvement over Facebook.
–
Velveeta Voldemort asserting "executive privilege" when he is no longer President is a bit like some ex-husband trying to tell his ex-wife what to do. Of course, he probably does that with both ex-wives too.316
Daily Mail headline: "McConnell warns Biden GOP will not help raise debt ceiling again in December due to Schumer's 'tantrum' speech." Uh, did ANYONE think Republicans were going to do anything other than to try to blame Dems for a government shutdown right before Christmas.
–
Media today – "Wow, Sanders & Manchin have big egos and butt heads."
Also media – "So this Sunday should we have Sanders or Manchin as our lead Senate guest?"
–
Innocent people don't defy subpoenas.
Explore posts in the same categories:
Uncategorized