And down the stretch they come..
Not posting it, but the SF Giants have a magic number.
I guess they did at the beginning of 2021 – it was 162.
But seriously, anyone think back in March Giants would be making plans for anything in October but vacations and golf games.
–
Alabama coach Nick Saban is upset about the Crimson Tide's efforts during practice this week before they play FCS opponent Mercer on Saturday "So, to me, we have to prove we can play and maintain intensity … and do things the way we're supposed to do it."
Uh, if Saban REALLY thinks Alabama has a hard time getting up for an opponent like Mercer, maybe he could have the school stop scheduling cupcakes?
–
–
The Former Guy now claims to be a big Robert E. Lee fan, so I'm sure he'll love this picture. It's General Lee, surrendering, like a gentleman, and telling General Grant (and thus President Lincoln) that he'd won…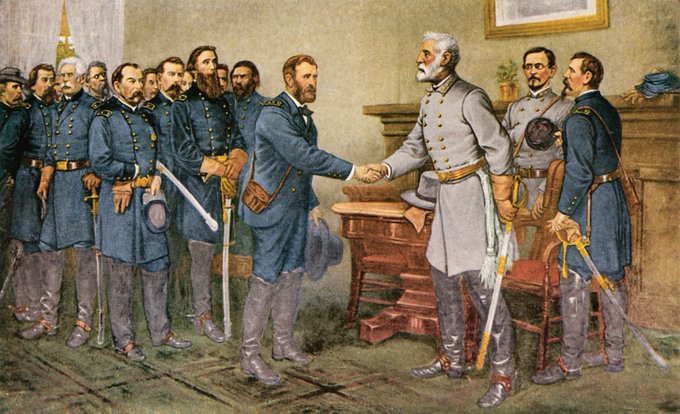 –
RIP. In lieu of flowers, Windex should be sprayed at his funeral. "Michael Constantine, Dad in 'My Big Fat Greek Wedding,' Dies at 94"
Also, if you're of a certain age, you might just have the Room 222 theme song going through your head. Yes, Constantine was Principal Kaufman.
–
The Ohio State University has a vaccine mandate.
University of Cincinnati, the second largest university in Ohio has a vaccine mandate.
So Jim Jordan who says "Real America is over COVID" thinks his state's biggest universities aren't "Real America?"
–
So exactly what qualifications does Kellyanne Conway think she has to remain on United States Air Force advisory board? Did I miss USAF rescuing survivors of the Bowling Green Massacre?
–
GOP logic tonight on California recall election:
Gavin Newsom should be recalled because of a French Laundry dinner.
Larry Elder should be elected because one person threw an egg at him. #Priorities #VoteNoOnRecall
–
So as Rachel Maddow covers how FBI has released a better picture of the January 6 pipe bomb suspect and asks for tips, this might be a potential bounty program I can get behind. The reward is $100,000.
How much do I hope a woman turns him in and then donates some of the reward to Planned Parenthood?
–
–
Rachel Maddow also points out that some in GOP are saying if Governor Gavin Newsom doesn't get recalled they will say the California election is stolen.
Sound familiar? If you float you're a witch, if you drown you're innocent…
Explore posts in the same categories:
Uncategorized