Trading places.
Apparently Kris Bryant, is from Las Vegas and who has seemed like a potential long term fit for the SF Giants, cried in the Cubs dugout when he found he out was being traded.
Welcome to San Francisco, Mr. Bryant, where we know real men do cry.
–
–

Aww… but wanna feel old? This is Barry Bonds with his GRANDSON?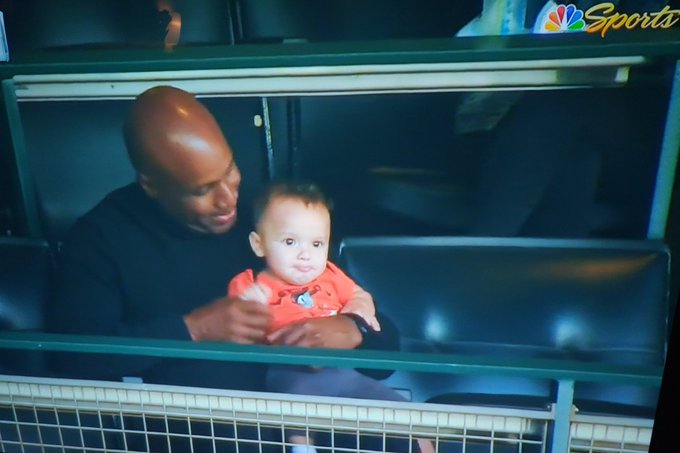 –
Thinking sentimentally about Dusty Baker returning to San Francisco and realizing most of SF Giants players were kids when he managed the team from 1993 to 2002.
If they were even born when Dusty started with the Giants.
–
Washington Nationals & Chicago Cubs basically traded most of their stars away today. So will fans at Nationals Park tonight in DC at least get a discount on beer? Since presumably they paid to watch major league baseball?
–
From my funny friend Marc Ragovin : "I'm not saying the Nationals are rebuilding, but Congress just voted a supplemental $100 million appropriation for them as part of the infrastructure bill."
–
At this point a lot of rumors about MLB trades turned out to be just rumors. But was pleased to see I am not the only SF Giants fan who really has become attached to Lamonte Wade, Jr.
–

As we good closer to the 1pm PT/4p ET MLB trade deadline, baseball fans refreshing their Twitter feed like many of us were refreshing appointment schedules in desperate hopes of a COVID vaccine back in March.
–

Maybe it's just me but thinking this line isn't getting enough attention in those notes from Velveeta Voldemort pressuring the DOJ to say the election was corrupt: "Leave the rest to me and the R congressmen."
–
Florida Senator Rick Scott regularly rails against inflation now & costs to Americans. ICYMI, Scott resigned in 1997 as CEO of Columbia/HCA, one of USA's largest hospital networks, amid federal investigation, they ended up being fined $1.7 billion by the DOJ for defrauding Medicare.
–

So great seeing Amy Klobuchar & Tina Smith honoring Minnesota native and Hmong-American Suni Lee on Senate Floor today.
Meanwhile seems like a lot of conservative white guys are disappointed an American, & daughter of a refugee at that, won Olympic gymnastics gold. Gets in way of narrative trashing Simone Biles.
Now that DOJ said the Treasury "must" give The Former Guy's tax returns to Congress, wonder where all the Merrick Garland haters are today?
–
Can't believe some of these people who can't fathom how guidance on masks might change. So if they were in New Orleans after Katrina would they tell rescuers, I'm not leaving, there wasn't water in my street last night?
–
More than 295,000 pounds of raw beef products from Greater Omaha Packing are being recalled for possible with E. coli. Well, instead of a recall, why don't they just ship the meat to Texas and Florida? Their governors don't believe in silly stuff like science.
—
Gym Jordan claims he can't remember if he spoke to the President on January 6. Which is about as likely as Jordan's claim now he had no idea that Ohio State wrestlers were being sexually assaulted.
–
Florida Governor Ron DeSantis has three young children: 'My wife and I are not going to do the masks with the kids; we never have. I want to see my kids smiling. I want them having fun."
Wonder how much fun parents of kids in ICU with COVID think their children are having?
Explore posts in the same categories:
Uncategorized