Rocky Olympics.
All the slimyness of Olympic figure skating, makes curling now especially charming to watch.
But is it considered performance enhancing if you buy your opponents several pitchers of beer?
–
At this point I'd give Mikaela Shiffrin an Olympic medal if she knocks microphone out of the hand of one of these idiot reporters who keep asking her about the troubles she's had skiing in Bejing.
–
Imagine you've spent your life as far back as you remember training on ice & now even if you give the performance of a lifetime, you won't receive medal in Beijing, because ceremony will be canceled if someone who cheated is 1 of top three.
IOC = International Olympic COWARDS
–
Maybe when Kamila Valieva skates her long program NBC can show Tara Lipinski's and Johnny Weir's greatest hits instead?
–
Stephen Colbert last night talking about Ukraine – "Possible good news – Russia might be pulling out."
But "dudes like that never pull out when they say they will."
(I suppose it would be churlish to say too bad Fred Trump didn't.)
–
CNN & other media all over story of San Francisco parents voting out school board members over school closings.
Well, school closures were one thing. But board spent much of pandemic time focused not on kids, but on renaming schools w/ names they deemed politically incorrect.
The board removed Abraham Lincoln's name from one school & Senator Dianne Feinstein's from another. Feinstein's crime? In the 1980s when Dianne was SF mayor., a job she got after Moscone and Milk were assassinated, someone vandalized a Confederate flag in a display at SF Civic Center & she didn't stop parks dept from replacing it. No joke.
–
Now Rudy Giuliani claims he has evidence proving Hillary spied on Velveeta Voldemort, and "I happen to have it in my bedroom."
Well, guessing Rudy's ex-wives & girlfriends probably will testify he usually grossly exaggerates what he has in his bedroom.
–
Tom Cotton doesn't get as much press as Ted Cruz and Josh Hawley. But he clearly aspires to be equally awful.
–
Senator Amy Klobuchar has had enough of Tom Cotton too: "As I listened to Senator Cotton, there were a lot of things I disagreed w/ Trump Justice Department but NEVER did I think of holding up US Attorney of Arkansas or Arizona or Illinois because I disagreed with Donald Trump."
So will GOP Senators defending those who refuse to wear masks on planes next demand passengers be able to ignore seat belt signs, or use cellphones in flight? Or bring a gun on board?
It's actually quite simple: Don't want to follow rules? Don't fly.
These 8 GOP Senators have decided it's more important to protect the rights of unruly passengers than to protect flight attendants and other passengers from verbal and physical abuse. Period.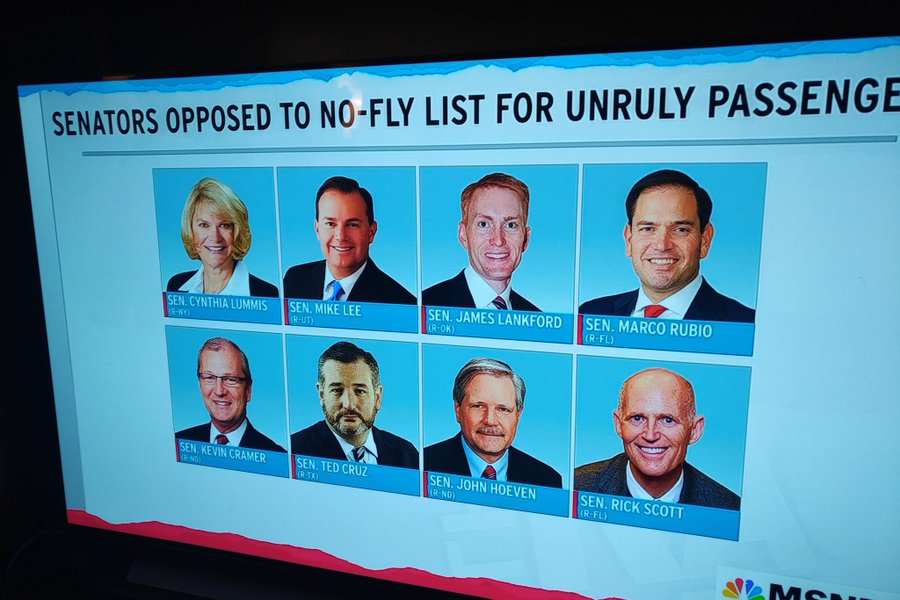 Explore posts in the same categories:
Uncategorized
2 Comments on "Rocky Olympics."
February 17, 2022 at 11:27 am

Kamila Valieva claims that her positive drug test was due to her inadvertently taking her grandfather's heart medication. No wonder her long program consisted of skating in circles with her turn signal on