All that glitters.
Absolutely thrilled for Erin Thomas and her speekskating gold medal.
But can we have a moment for someone who deserves much more love than she gets in Olympic history, first Black woman to win a medal in the Winter Olympics?
She was mesmerizing to watch – Debi Thomas.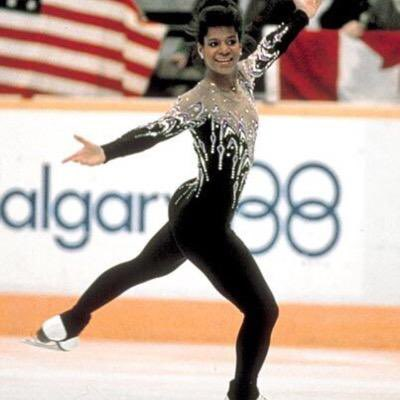 –
As a white woman who grew up watching Super Bowls before anyone cared about the halftime show, I can cheerfully acknowledge even if it wasn't my style of music, it seemd like a good show yesterday.
Why is that so hard for some people?
–
If the first doping scandal made Russia compete with ROC uniforms, now what will this latest figure skating scandal do? Make them compete under the banner "'Athletes formerly known as Russia"
–
The gospel according to the Olympics – If a 15 year old girl is given performance enhancing drugs she is a "Protected person."
But if a 15 year old girl is sexually abused by a team doctor, she's on her own.
–
ESPN report-MLB wants to eliminate "hundreds" of minor league playing jobs in latest labor offer to players
In 2021 MLB raised minimum MONTHLY salary for AAA players to $16,800, AA to $14,400, Class A to $12,000, complex league to $9,600 & Dominican Summer League to $3,000!
WTAF?
So how much money are we talking about for billionaire owners?
–
Velveeta Voldemort's longtime accounting firm, Mazars, has fired him, saying they no longer trust Trump Organization documents.
Standby for more Fox "Breaking News" about Hillary Clinton.
–
We know Putin has talked to President Biden about Ukraine this week.
Wonder how many times Vlad has talked to The Former Guy.
–
Hearing about 40% of mail-in ballots in Harris County, largest in Texas, being flagged as faulty under new rules. Showing GOP really is making it harder for "some people to vote." Just imagine SCOTUS ruling on voting rights if Hillary Clinton had chosen the last three judges.
–
–
Mitch McConnell called out celebrities who were seen ignoring mask rules at the Super Bowl.
Fair point.
Hypocrisy s*cks.
But even COVID exposure is dwarfed by comparision by hypocrisy of ignoring rules for multiple lifetime SCOTUS appointments.
–
Dr. Deborah Birx is the latest Former Guy flunky with a book deal.
I really don't care, do U?
–
Hate guns. But love this 79 year old woman named Valentina in the Ukraine,"a retired accountant and great grandmother" on @Maddow tonight. Valentina is training to handle an AK-47.
"If Putin will come, I should be able to shoot."
—
Sadly, hard not to get the sense that the media is rooting for a Ukraine invasion. #ratings
Explore posts in the same categories:
Uncategorized