Magic numbers.
And yes the SF Giants have two. One for playoffs, one for NL West.
Let's be honest, didn't most of us in march expect in September, the team would be counting down until they could play golf?
–
Stanford was 17 point underdogs against USC. After seeing the "highlights" from last week against Kansas State I was amazed the spread was that little.
–
When you walk pitcher Walker Buehler on 4 pitches w/ 2 outs in front of Mookie Betts pretty sure you don't deserve to be in playoff conversation. Also when one of your star (Machado in the next inning is thrown out trying to extend single into double when you're down 3 runs…. Yes, talking to you SD Padres.
As divided as this country is on the 20th anniversary of 9-11 I suppose it's a small mercy that we can all come together to agree that umpire Angel Hernandez s*cks.
–
Random weirdness is this? Final score 15-4. But the SF Giants only had two more hits (13-11) than the Cubs today.
–
You know how big of a circus this recall is in California when John Cox, the guy who runs around with a big live bear (no joke), is one of the saner GOP alternatives.
–
ICYMI Florida COVID weekly deaths hit record-high of 2,448. Almost another 9-11 in seven days. And entirely preventable. All snark aside, Florida, please vote DeathSantis out in 2022.
–

More than 18,000 Mississippi school children have alreaady caught COVID-19 in the school year that just started this August. I miss the days when Mississippi just failed their children by not putting enough money into education.
–
Dubya on 9/11 "We've seen growing evidence dangers to our country can come not only across borders, but from violence that gathers w/in. Violent extremists abroad & violent extremists at home…they are children of the same foul spirit" How long until GOP attacks W as "antifa?"
–
No comment or interest on Sept 11 on what Velveeta Voldemort did. W's speech was good… but these really were the only other Presidents' whose public actions should have mattered today.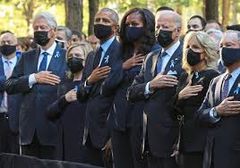 –
Ever wonder why Joe Manchin seems to act like he's the single most important person in the Senate? This Sunday morning Manchin is on ABC's "This Week", CBS's "Meet the Press" AND CNN's "State of the Union." But hey, what could go wrong with the media stroking a politician's ego?
On a brighter note for Sunday morning – it's just possible that the "ugly American" tourist image may soon be largely gone. Because with vaccine mandates the worst offenders soon won't be able to get into most countries.
After the Gubernatorial recall election is over can California figure out how to allow Huntington Beach to become West Florida?
Explore posts in the same categories:
Uncategorized