Not playing for headlines.
The two best teams in MLB just played an exciting weekend series at Oracle Park. And if you say "who?" you've probably been watching ESPN.
–
–
You know you root for a team that gets no respect when ESPN finally gets around to having a headline about SF Giants game today.
"Kris Bryant joins ex-Chicago Cubs teammates Anthony Rizzo, Javier Baez in mashing debut homer."
–
Must admit I'm finding late night diving on CNBC strangely compelling. Maybe because it's actual coverage showing all the competitors through multiple rounds without nonstop US focused back stories.
And seeing a lot of missed dives makes you appreciate the good ones.
–
–
Chuck Schumer speaking on Senate floor this am about bipartisan infrastructure bill… and his phone started ringing.
Guess it happens to all of us.
While bipartisan infrastructure bill looks like it will get more than 60 votes, ie enough to pass & not be filibustered, some GOP Senators will definitely vote against it. Would those Senators like to provide a list of bridges in their states they are okay with falling down?
–
Since Republicans in Florida are so sure doctors & scientists are wrong about COVID why are they going to the ICU when they get sick?
Instead of staying home and listening to Governor Ron DeSantis tell them how harmless the virus is?
–
It's not just that DeSantis is "dying to own the libs."
It's that he's okay with average Floridians "dying to own the libs."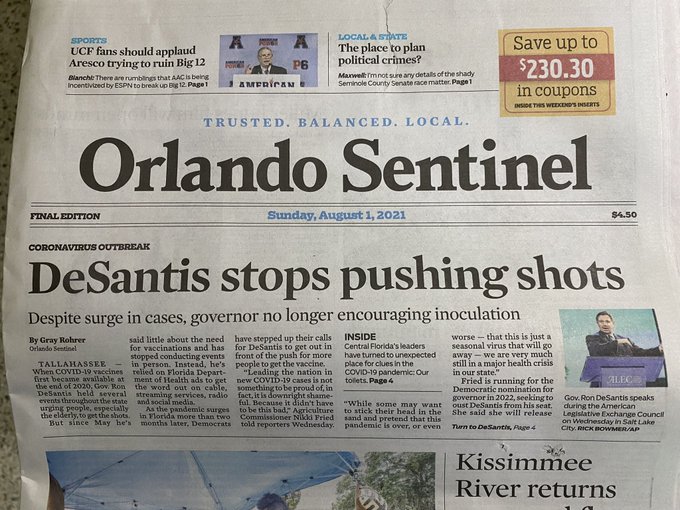 Fox News FINALLY got around to mentioning Delta Variant in headline – "Obama plans 'big' 60th birthday party in Martha's Vineyard as threats of delta variant continue." Gosh, wonder why Fox isn't covering regular gatherings held by The Former Guy at Bedminster?
–
So tired of BS from anti-maskers like DeSantis saying they want "to see their kids smile." We all want to see smiles. But many of us miss seeing tears, and giving hugs. We've lost family members & friends during pandemic & haven't even been able to say goodbye. #WearADamnMask
Explore posts in the same categories:
Uncategorized