And the hits just keep on coming.
After the top of the first inning tonight against Arizona Diamondbacks, SF Giants were down 2 to 0. Apparently someone found where the team left their bats in Texas. . Final score, SF 13, AZ – 7
–
Remember that Madison Bumgarner seven-inning no-hitter in Phoenix on April 25.that MLB refused to certify as a no-hitter? Arizona Diamondbacks haven't won a game away from home since. The baseball gods may not be amused.
–
Jacob deGrom left his start today with right shoulder soreness after pitching three perfect innings. While I'm not a Mets fan for the sake of baseball hope all those Koufax comparisons don't become too accurate.
–
Phillies fans are famous for booing Santa Claus
Even Santa Claus would have booed the Philadelphia 76ers in the 4th quarter today against the Hawks.
–
MSNBC, how about a new rule – anyone who prioritized book sales over trying to save democracy (and lives) doesn't get an interview on your network? #JohnBolton
–
Just my opinion, but to my mind the best reporters are like the best baseball umpires. They don't make the story all about them.
–
Things I would rather do than watch an interview with Velveeta Voldemort:
Have a root canal.
Listen to a concert of nails on a chalk board.
–
Watch the Dodgers win a game. For starters. (I am aware some of my friends may disagree on the last one.)
–
Why do we just think of antitrust & competition issues affecting high-tech? Airfares are high from SFO to Dulles. But remember Independence Air? For just one example. Lasted less than 2 yrs w/ cheap fares. United matched fares at loss leader prices, put them out of business, then raised fares again
–
-Fox News headline "Garry Kasparov told "Fox & Friends Pres. Biden meeting w/ Vladimir Putin in Geneva implies United States "giving credibility to a brutal dictator." Gosh, I missed that headline when Velveeta Voldemort met w/ Vlad in Helsinki AND invited him to White House.
–
If the media treated Putin-Biden summit any more like a prize fight they'd have to put it on pay-per-view.
–
New GOP logo…..? (Google Get Smart kids, if you don't recognize this.)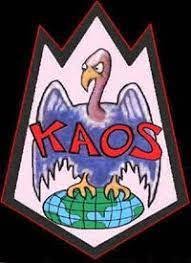 Explore posts in the same categories:
Uncategorized